A beautiful story about Quilting in South Africa by Owen Calverley
The "Movie Directors" exhibit which featured work from France, Japan and Quilting in South Africa under careful scrutiny.
A great deal of expense and planning went into the exhibition hall display and lighting.
With a population of roughly 50 million people living on a continent known for its creativity, South Africa should have many quilters. When one understands the demographics of our country, however, one realises that only a small percentage of the population has either the interest or the means to make a quilt. The other reality is that it takes great dedication, effort and expense to create that interest and to encourage it to grow.
With the above sobering thought in the back of the mind, let me assure you that quilting is very much alive and the fastest growing craft in our country. Where other forms of handicraft have come and gone over the last 20 years, quilting just keeps growing steadily and becoming more and more popular. To understand why, it is helpful to identify the forces at play here which keep quilting vibrant and growing.
Let's start at the top. The South Africa Quilters' Guild which was founded in 1989 to unify the various quilting guilds in the country carries much of the responsibility for ensuring that quilting standards are set and maintained, by training and certifying judges. SAQG is involved with outreach work in under-resourced communities, it markets quilting both here and abroad, it documents heritage quilts and coordinates and sets rules for national quilting festivals. The committee comprises twelve energetic volunteers from each regional quilt guild, with a dynamic, forward-thinking chairperson which ensures that each of its responsibilities are well taken care of.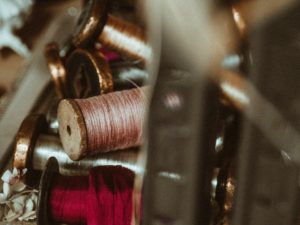 One level down, we have twelve regional quilting guilds which keep the interest alive by coordinating the activities of local sewing and quilting groups. The guilds vary in size across the country, with the larger ones obviously being in the major urban areas. Four of the larger guilds, with their increased resources and access to suitable venues, also take turns to host biennial week-long National Quilt Festivals where quilters get together to attend workshops, buy goodies and admire the work of their fellow quilters. Various quilt exhibits are displayed at the festivals, including the entries received for the prestigious official competition. Prizes are awarded in a wide range of categories. These festivals can be summarized as being "by quilters, for quilters". In addition to the national festivals, almost all of the guilds hold annual regional festivals which range from small exhibitions and "breakaways in the bush" to large sponsored events. Quilters from all over the country thus get the opportunity to compare their own work with that of others and to grow in the process.
Over the years our country has produced many highly acclaimed quilters and fibre artists who have won awards at both national and international level. Many of them also teach from their studios and at national and regional quilting events, passing on their skills to the next generation. Talent is not lacking in our country, but as every teacher knows, any creative person needs food for their creative soul and just as good food needs good spices, our local talent can always benefit by "spices from abroad". To use another metaphor: cross-pollination is what produces new and interesting fruit.
Access to products and materials, especially fabric, is another major factor which can either retard growth or contribute to it. In South Africa the latter is the case, and we can see a direct correlation between access to products and the growth of quilting in our country. Just over the last ten years, the availability of an ever widening range of good quality quilting fabric has been astounding, becoming both a source of inspiration and a reason for excitement, which helps to attract more people to quilting.

With three longarm quilting frame brands being launched into the African market at the show, interest was extremely high and demonstrators worked hard.

"No, it won't bite you – try it for yourself!" Longarm specialist Kimmy Brunner from the USA doing a demonstration for Handi Quilter. She also presented daily longarm demonstrations in the lecture theatre.
Without access to new sources of inspiration, a craft can soon become either stagnant or inbred. Fortunately our quilters have ready access to inspiration in the form of magazines. My wife, Sharon, and I publish "Stitches", the only local title dedicated to needle craft, which carries a number of step-by-step quilting projects in each issue. A wide range of overseas titles are also eagerly consumed for inspiration. Never underestimate the value of this source!
The emergence of the terms "fibre art" and "art quilts" is another hugely influential factor. The concept that quilting and patchwork is an art form which belongs in a gallery instead of the bedroom, is attracting both formally trained artists and graphic designers as well as informal artists to the wonderful world of "quilting". I use parenthesis here, as I do not want to be drawn into a debate on terminology at this point. Enough to say that they are realising that fabric is just another medium that they can use to express their creativity. The words "sewing machine" which used to conjure up visions of clothes-making and alterations in the mind, now refer to just another wonderful tool used to create works of art. As more minds start connecting the word "sew" to the words "art" and "create" we are seeing more and more converts. A constant source of pleasure for me is seeing non-quilters and non-sewers being confronted with a display of beautiful quilts and watching their dumbstruck reaction. We have all heard the comment: "But I thought a quilt was something which Grandma made and goes on the bed in the spare room!" Even my son-in-law, a software developer by profession, has been bitten by the quilting bug. My daughter designs them, he makes them. I rest my case.
With all of the above influences, it makes sense that quilting is alive and growing strongly in South Africa. To further promote this growth and enthusiasm, a group of like-minded people with varying interests in quilting started a conversation a few years ago. All of us have travelled extensively and able to compare the standards of local quilting and quilting events with those in other countries. We asked questions like: Where is quilting going in our country? Are our own quilters and teachers getting enough exposure to international standards? Are they getting access to opportunities for teaching at international events?

"Look what I bought!!" Teacher Susan Brubaker Knapp from the USA caught during lunch showing her latest discoveries to the other teachers.
The short and powerful answer to these questions was eventually summarized as: We need to bring the world to Africa and showcase Africa to the world. With this partially-formed thought in our minds, we set about creating an event which would answer the need. Between the three co-founders, Leon van Vuuren, my wife Sharon and myself, we had the skills, contacts, knowledge and resources to pull it off. We looked at the best of the overseas quilting events and analysed their strengths and weaknesses to build a model which would work in our unique environment. The concept of the International Quilt Convention Africa thus began taking shape. There were a number of key ingredients in our "recipe". The venue had to be very large, superior in both quality and service levels, easily accessible by air and car and have good and plentiful accommodation nearby. Johannesburg is the logical city to host the event as it has the most people and the best infrastructure. Emperors' Palace is right alongside the airport and it has a sumptuously decorated convention centre which offers everything we need and more, with four exquisite hotels right on site. A highly professional and competent staff completes the package. In short, it is every event owner's and event-attendee's dream, so we booked it immediately. The second ingredient was to get the backing of international brand owners who would be prepared to either extend their involvement with South Africa or to launch new brands here. This item took time and effort to achieve, but it was accomplished and will stay on our list as we introduce yet more brands to our country. Then we needed to convince international quilt teachers at the top of their game to come out here to teach. Amazingly, this was the easiest to achieve, as it appears that many people would love to visit our lovely country. With the help of a few key American volunteers (Ricky Tims and Pat Sloan became IQCAfrica ambassadors in the blink of eye) we put together our first teaching team comprising seven international and five local teachers.

The vendors hall got pretty crowed at times, so this late-afternoon lull was welcomed so vendors could catch their breathes and restock shelves.

Quilters attending an event want to feel spoiled, buy exciting new things, learn new things and see amazing quilts. Give them that in abundance and you have happy delegates. To complete the mix, we still needed to source exhibitions of quilts from abroad. Again, the graciousness and trust of people we only spoke to in emails was astounding and we were able to secure the loan of two world-class exhibits for our first event. Gül Laporte and the organizers of the European Patchwork Meeting must get special mention at this point, as they have given us support beyond what we would ever have imagined. Advice, practical help, moral support and much more. As with most things in life, it is relationships that has proved to be the most important single ingredient in the IQCAfrica recipe.
Our first event ran from 27 – 29 July 2012, with delegates from all over Africa plus a few from the USA and Europe swelling the numbers of local quilters who came to experience an international event in their own country. It was huge, it was exciting and it has captured the imagination and support of our local quilters. Our next event is planned for 6 – 8 September 2012. Special guest at this event will be Ricky Tims who will be presenting two seminars as well as providing the entertainment at our very sparkly Gala Dinner. The rest of the programme is still a secret at this point and will be announced on our website early in January 2013. We will also be offering overseas visitors the choice of including other activities such as wildlife tours and day-excursions in their visit to our beautiful sunshine country. You are most welcome to visit our website Sewn!