Perhaps you have seen them displayed in your favorite quilt shop: those bundles and rolls containing stacks of fabric squares. You may even have picked one up and played with it, only to put it back down because you were not quite sure how you would use it.  
Welcome to the world of pre-cuts!  As the name suggests, pre-cuts are bundles of pre-cut fabrics and they usually contain 40 carefully chosen pieces. And yes, they have delicious sounding names such as
Layer Cake, and Jelly Roll
, and Charm Packs.
Working with pre-cuts is fun and easy. But best of all, it can save you time, money and storage space.  Your pre-cut bundle provides you with forty different but perfectly matching fabrics. That means: no more time wasted searching for the right materials, matching colors, or matching pattern combination. It's all right there, and in the right amount, so you can start your project right away. 
And when you are done, there are no left-over materials to store. That is especially useful for those one of a kind projects and special gifts (think Christmas table runner or Baby quilt!) which call for fabrics which you would not normally keep in your collection.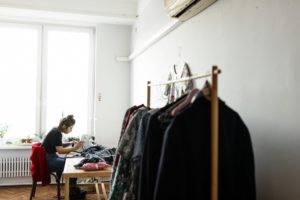 Plus, each pre-cut
fabric
combination has been selected by experienced designers who have an eye for balance and color contrast. Sometimes quilters choose combinations that are too harmonious and sweet; they sense that their project lacks a certain oomph, but are not sure how to fix it. Or alternately, in their desire to create contrast and interest, quilters end up choosing combinations that are jarring and harsh. Good designers know how to avoid both pitfalls, and pre-cuts with their carefully chosen fabric selection give you fabric combinations which are both pleasing and interesting. 
What all can you do with pre-cuts? You can find lots of ideas and suggestions in quilt magazines and in books, but your best resource is probably the Internet. Not only can you download many projects and patterns for free, but you can also search by category, such as Layer Cake or Jelly Roll, etc. Go to
www.sewn.net.au
and explore all the inspiring suggestions. Popular projects include quilts, table runners, bags, and accessories.
Where can you buy pre-cuts? Most likely you will find a good selection of pre-cuts in the quilt shop around the corner  (if not, you might want to encourage the shop owner to carry them). And then there is always the Internet where you will find many helpful our website
sewn
. So give it a try, perhaps together with a friend or your quilting circle – pre-cuts lend themselves especially well for a weekend project with fellow quilters. And soon you will see how much fun you can have with these delicious sounding bundles.